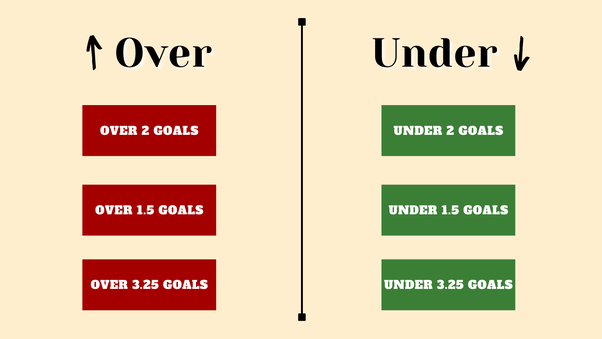 The Over/Under (O/U) bet is no longer unfamiliar to sports and football enthusiasts. However, for newcomers to sports betting, they may still not fully understand what the Over/Under bet is and how to effectively play it. If you have the same questions, please refer to the article below. We will help you understand the Over/Under bet and share tips for effective O/U betting.
What is Over/Under (O/U) Betting in Sports?
Over/Under betting, often referred to as O/U or sometimes as "totals" betting, is one of the most popular betting options in sports betting today.
In an Over/Under bet, the sportsbook sets a specific number to predict the total number of goals or points that will be scored in a given game. The player's task is to predict whether the total number of goals or points scored by both teams in the game will be higher or lower than the number set by the sportsbook. Specifically:
Under: The player predicts that the total number of goals or points scored in the game will be lower than the sportsbook's set number. If the actual result aligns with your prediction, you win the bet.
Over: The player predicts that the total number of goals or points scored in the game will be higher than the sportsbook's set number.
The Over/Under bet applies only to the regular 90 minutes of gameplay, including injury time, and does not include extra time or penalty shootouts. If you lose the bet, you lose the initial wager, and if you win, you receive a payout based on the odds set by the sportsbook.
Over/Under bets come in various forms, making it more versatile for players to participate in betting. Examples include Over/Under bets for the first half, second half, or the entire game. To make accurate predictions, you can analyze factors such as the historical head-to-head record between the two teams, the current form of both teams, recent performance, and more.
Advantages of Playing Over/Under Betting in Football
O/U betting, or Over/Under betting, offers several advantages to players:
Simplicity: O/U betting is a straightforward wager where players only need to predict whether the total number of goals or points scored in a game will be higher or lower than the sportsbook's set number. You don't need to predict the exact score of the match or which team will win or lose.
High Winning Potential: O/U bets often come with a high winning potential. Additionally, O/U bets can be applied to a wide range of football leagues and tournaments worldwide, from top-tier international competitions to domestic leagues. This provides plenty of opportunities for players to bet on their favorite matches.
Compatibility with Different Betting Strategies: O/U betting can be seamlessly integrated into various betting strategies. You can use it as part of an overall betting strategy or focus solely on O/U bets to maximize your chances of winning.
Experience Playing Over/Under Bets
If you know how to play Over/Under bets, you have the ability to win and minimize unnecessary risks. Especially for newcomers to betting, you can consider the following experiences:
Thoroughly Research the Two Teams
This step is crucial as it will determine your success. Therefore, players need to gather information about both teams, such as their head-to-head history, recent performance, starting lineups, player injuries, coaches, playing styles, and more. Based on this information, you can analyze the match and make predictions about the total number of goals that both teams can score, making it easier to place bets on Over or Under.
When to Bet Over
This is a little-known tip when playing Over/Under bets. Players should prioritize betting Over when there is a significant difference in team strength (i.e., one team is weak and the other is strong) or when one team has a good goal-scoring ability, and the weaker team has injured strikers or a player with a red card. At this point, you can consider playing the Over/Under bet for the first half (the first 15-25 minutes) or around the 50-60 minute mark of the match. This can help protect your capital and increase profits.
When to Bet Under
For teams with limited goal-scoring ability, it's advisable to prioritize betting Under. For example, if both teams have strong defenses and are unlikely to score many goals or if both teams are not eager for a big win and are content with a draw, you should consider betting Under. Additionally, if a match starts with a lineup of reserve players, the chances of a low-scoring game are higher, making it more suitable for an Under bet.
Play Over/Under Bets in Major Tournaments
With Over/Under bets, betting experts recommend prioritizing major football tournaments. This is because large tournaments usually provide more accurate information and data for players compared to smaller tournaments. You can participate in Over/Under bets in leagues like the English Premier League, La Liga, Serie A, and more.
Proper Bankroll Management
Not only does it require a sound betting strategy, but smart bankroll management is also a way to increase profits and minimize risks. For newcomers, it's essential not to rush into placing too many bets at once. You need to allocate your money wisely and know which bets to place more on and which ones to place less on.
Choosing a reputable and professional bookmaker.
When playing the O/U bet, it's crucial for both newcomers and experienced individuals to select a genuinely reputable bookmaker. This will help ensure a safe betting experience, secure information handling, transparent rewards, and access to comprehensive information about matches and odds.
In the Asian market, Fun 88 is regarded as one of the leading and most renowned brands in the field of football betting. This website is licensed by the Isle of Man Gambling Supervision Commission and the Philippine Amusement and Gaming Corporation (PAGCOR). When you choose Fun88, you can participate in various football tournaments worldwide, enjoy competitive odds, and benefit from enticing promotions.
To engage in O/U betting on Fun88, players only need to follow these steps:
Visit the official Fun88 website using the latest link provided at https://www.etfrn.org/.
If you don't have an account, you need to register with Fun88 and deposit funds into your account. If you already have an account, you can log in to Fun88 and place your bets right away.
Choose the football match you want to participate in, select the O/U bet, and proceed with your wager.
After successfully placing your bet, you just need to follow the match and wait for the results. If you win your bet, your winnings will be credited to your account.
Conclusion
We hope that through the information shared here, players have gained a clear understanding of what O/U bets are and have acquired the experience to successfully engage in O/U betting. If you are just starting out, do not hesitate to contact us for assistance and guidance. We wish you luck and success!